My last blog post was about stepping back from boccia and retiring as an elite athlete. I've known for a long time what I wanted to do when I had the time and energy to move forward. So, now I'm marching on with those plans.
My retirement from boccia was the result of constantly pushing myself to my limits in a way that was not sustainable ongoing.  My Cerebral Palsy (CP) means I will sadly never be able to work full time. I know I have to balance life.  The variability and fluctuations on a day-to-day basis of my energy levels mean some days doing anything meaningful would be impossible.  But what I can do is conserve my energy to have a big push and then plan recovery time afterward.
Marching on to my future
As a consequence of working towards my boccia retirement at the end of March, I didn't need to go to the Boccia UK training camp.  Instead, I was going to begin to focus on 'what next'. There was never an intention to pack the beginning of the month full of activity.  However, marching on the best-laid plans, etc … somehow things have been busier than I expected.
Fulfilling my own dreams
My dream has always been to raise awareness of augmentative and alternative communication (AAC). At the same time finding ways to empower those with communication impairments and physical disabilities to fulfill their own communication and life potential.
Quality of life means getting to spend time with those you love as well as doing things you love.
Serendipity
Sometimes things seem to come together, it's serendipitous.  This week included an online dreams workshop under the auspices of York International Women's Week. Then 2 school visits. One, back to my old primary school, The Vale, to take an assembly. Then to my secondary school, Valence a residential special school to lead a full day of tailored activities.  Both were exciting in very different ways. And, to top this off I was able to catch up with 4 strong women who I haven't seen in ages.
Going back to my primary school
The Vale Primary school is a mainstream primary school, and it was great to talk about my academic and sporting successes. Of course, this included my Paralympic journey.   I shared my early experiences of finding school challenging, but that with dreams, hard work, and resilience you can go places no one imagines.  'If you dream it, you can do it, your way'. I loved the school atmosphere, the calmness, and the positivity. I was blown away by the welcome and support of all the Vale staff and students.
You can read what they wrote in their school newsletter following my visit here.
'I am where I am because I live my dreams.'
By contrast, the Valence students needed no introduction to disability.  I was asked to start with an assembly with a smaller group and streamed to the remainder of the school.  I shared my sporting journey since leaving school before going onto a Q&A session. To ensure everyone had visual and auditory stimuli I requested the questions beforehand so I could use photos to illustrate my answers.   Next, we moved on to 2 workshops focused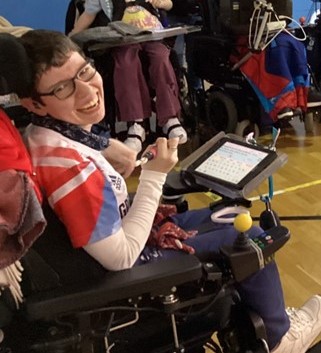 on my life after school.  These covered my experiences of the importance of sport, lifelong study, and living independently. This included some interactive work around how the students think when I shared about being a visual thinker.  Then, of course, by asking them to think about their own dreams.  I find it hard to talk about my own journey without referencing my dreams, I am where I am because I live my dreams.
Christie and I were given a lovely school lunch of roast chicken, I always loved the food at Valence. Then it was off to 2 further sessions which were free flow questions and answers. The students had great questions and these were different in each group. Topics ranged from did I have a pet to my post-graduate studies, and everything in between.  As a communication aid user, these sessions were, of course, much harder for me than pre-programmed answers. To be spontaneous takes that bit longer using a communication device. But by keeping my answers succinct we got through loads. Before leaving I was given an envelope which I opened later to find some lovely thank you letters from the morning session.
Overwhelming feedback
I was touched by the Valence feedback in their newsletter. "The sessions were truly inspirational and made even more special by the fact the students really felt that Beth understood what it was like to be in their shoes".  You can read the Valence article here. Valence was welcoming and calm, the students were positive and the atmosphere felt relaxed yet productive.
Feeling valued
It was so good to catch up with so many staff who remembered me from many years before.  And, it was my privilege to return. Just as I had been when I was a pupil at each school I left feeling valued for who I am.  Thank you to both The Vale and Valence.
Marching on to my own future
I'm looking forward to developing further activities and workshops 'marching on'.  These draw on my own lived experiences of independent living, leading a team, communication partners, mental well-being and safeguarding. Meanwhile, a few other new opportunities have crossed my desk so far this month, so watch this space.