Education is one big plan, the national curriculum is planned out over years. A typical child knows what transitions in education to expect and when. Then what the milestones and the outcomes of starting school should be. Plus all about moving up to 'big' school, sitting key tests, and what happens next.
Having a statement of educational need or EHCP
Throughout education a child, like me, with additional needs has very detailed plans to address transitions in education.  Throughout my experiences take full account of my speech and hearing impairment as well as my physical challenges. I am of the age when I had a statement, today in England it is called an education, health and care plan (EHCP).  The focus is primarily on what is needed today, and maybe the next stage.  When this plan was annually reviewed there were between 15 and 18 people sat in the room to talk about my education.
Nothing about me without me
I started attending the annual review meetings when I was 9.  Basically, I didn't think there should ever be a meeting about me without me in it.  School initially suggested I went for the first part and then back to class, but I wasn't having that. If they were talking about my future then I wanted to know what was being said.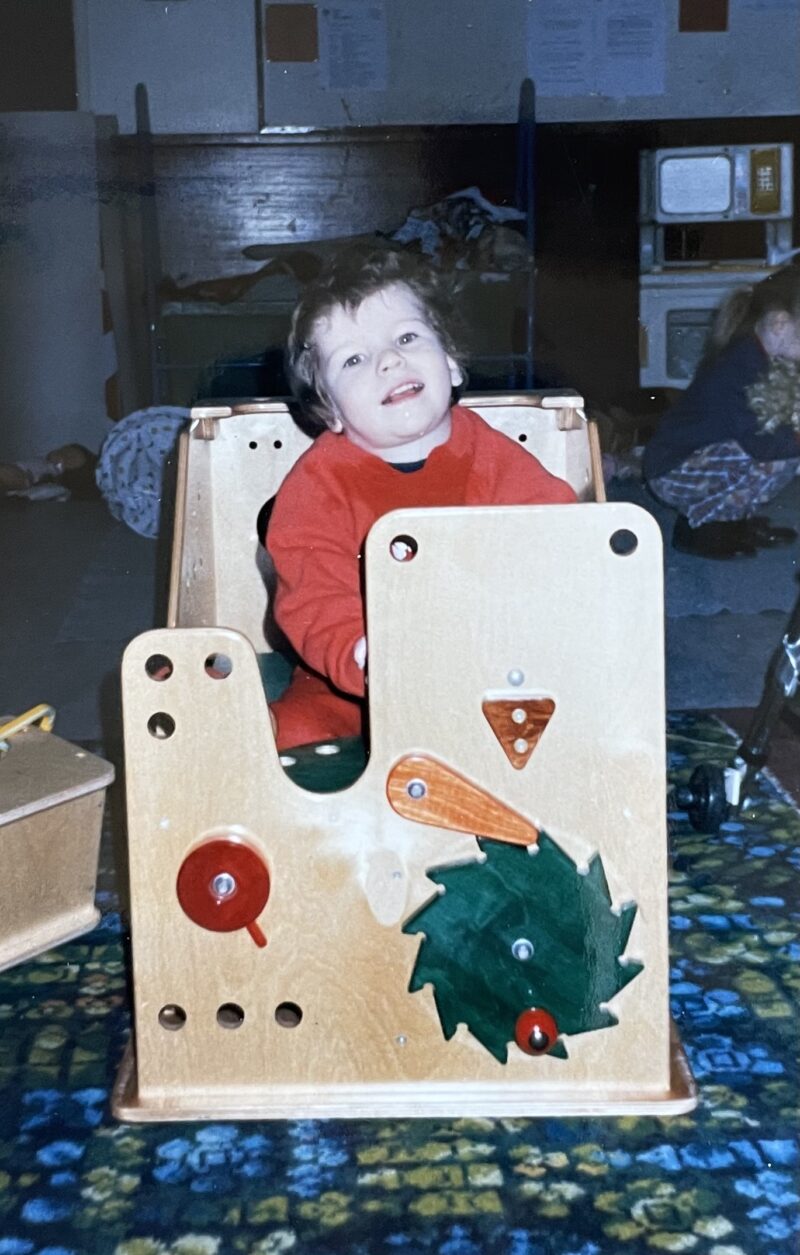 Transitions in education: stages
Each stage of transition required research, mounds of paper and stress. Mum tells me it often felt like people we never met decided what was best for me, because a council panel met to discuss and approve placements. In my part of the world there were 4 key stages of education.
Starting nursery/pre-school: age 2-4
Moving onto primary school: age 4-11
Going up to secondary school: age 11-18
Transitioning on in education: age 18-25
Stage 1: Nursery
Going to nursery was supported by the educational psychologist as appropriate, this was the first time Mum realised how different education was going to be.  First, she had to go and meet the nursery 'committee' of mums and staff. Unlike other parents she was asked to share why I should go there and the help I needed, a nerve-wracking first public explanation. Fortunately, they were fully behind my placement.
Stage 2: Primary School
There was no question I would go anywhere but onto the village primary school.  The challenges of this transition started when I was 3, around a year before this move.  It was identified even before I attended the nursery I would need communication support. So at my first annual review the local authority brought in an AAC and IT consultant, my physio, the occupational therapist, and my speech and language therapist.  Everyone worked together well. Apart from a full-size adult toilet I couldn't reach (which had to be replaced), and a communication aid and BBC computer that were the size of houses everything else seemed to work.
Transitions in education required increasing numbers of professionals to work with me
As time progressed, the number of professionals involved in my education increased. My parents wanted to ensure no opportunity for secondary school transition was lost.  At the age of 9 I wanted to start talking about my move to secondary school, but no one in education was ready for that.  Mum went to all the school open days a year early. The rationale was she didn't want to waste my time taking me to schools that were not going to be able to at least partly meet my needs.  In addition, she wanted to know about all the placements that thought they could support me.  I wanted to stay with my friends from school so chose the local girl's mainstream school, which eventually was agreed.
Stage 3: Mainstream secondary school
Sadly, the placement broke down, towards the end of year 7 (age 12) things started to go wrong and by the middle of year 8 I refused to go to school.  You can read more about this on my lifelong learning page. We had already asked for a change to a residential special school with AAC expertise, and once the placement was agreed this was probably the smoothest transition of any.  The school had a team of therapists and trained educators and from the minute I set foot in the door it was a positive experience.
Stage 4: Higher Education
EHCP's last until the age of 25 for everyone with additional learning needs.  That is unless you go onto higher education and then they cease when you start university.  At university disability funding becomes the responsibility of Student Finance (in England).
In my case as soon as school knew I was going onto university all input into my educational support plan ceased.  Social Services became involved to sort out funding for care.  I had an assessment with the Disability Support team at a university near my home for academic support and equipment.  Then it was up to us as a family to work out how we made it all happen.  Fortunately, the Disability Team at York was great and really supportive in helping me make plans.
Recommendations for transitions in education:
Understanding where your child is at academically and what they might need to fulfill their potential. My pediatrician referred me to a neuropsychologist for cognitive testing to support my mainstream placement. I was tested at 5 and again at 9.
Starting the planning process early.
Know the local authority timetable for decision making:

When your EHCP review is due (and statutory duties of the local authority)
When evidence/documents need to be submitted
When decisions will be made and published.

Planning early for getting your child's EHCP reviewed and know who has to be present for this to happen. For instance, in my area the Educational Psychologist had to attend, if they didn't then nothing would be changed.
Getting onboard all the professionals involved. In my case this included the pediatrician, physio, occupational therapist, speech and language therapist.  The educational psychologist, AAC and IT consultant.  Not to mention the physical and sensory support team, hearing impaired team and social worker.

Asking their professional opinion of what would be different between the current setting and the next stage.
Asking what equipment, tools and resources would be needed in a new setting to support the placement.
Ask where they feel would be an appropriate placement knowing your child and can they recommend any schools to look at.

Asking the local authority for a list of all state, free and maintained secondary schools in your area, and adjoining areas.
Checking out websites and Ofsted reports.
Talking to other parents and finding out what schools they know about, check if they know anyone who might know the schools you are considering, even if they don't.
Visiting every potential placement, you will soon rule in/out those who might meet your child's needs.
Telling the local authority what you are doing and where you are looking, they might even have suggestions to look at (when my placement broke down at age 12 they made 'cheaper' placement suggestions we needed to prove wouldn't meet my needs).
At those schools you like, or know will be recommended, make an appointment to talk to the Special educational needs coordinator (SenCo).  We had a lot of phone calls first before some visits.
Making a list of questions you will ask every school so you can compare their responses.
Take into account daily travel time/distance of the schools you like, for instance, is it feasible to be on school transport 2 hours a day. If you refuse a local school is it possible for a parent to spend 4 hours in a car each day dropping off and picking up.
Ask about the curriculum and timetable, plus specialist provision needed, for instance how therapy needs will be included, location of disabled toilets. Plus importantly experience of AAC learning.
This is not an exhaustive list and written from memory (and with Mum's help), you may want to add more things of your own.
Transitions in education: Moving onto university (with my top tips)
This transition was not for the faint-hearted, especially moving into university accommodation 250 miles from home. Whilst the university was very helpful there were loads more to sort.
The disabled student's assessment covers:
Academic support plan
Essential equipment needs and then sourcing equipment
Non-medical helpers (academic assistance) funding.  There may be help with interviewing, recruitment, training and management. However, if you use AAC there is probably no one around with experience to train your team so it will be up to you.
General annual allowance eg essential transport, additional printing, etc.
Top Tip:  And on this one do go to the assessment centre at the university you are going to attend.  I made the mistake of attending the centre nearest my then home, which over the duration of the course created problems. The original assessment centre had to approve all annual changes for Student Finance England so it was always an email negotiation.
My social care assessment included:
An assessment of need was carried out which included: support in halls during term time, costs for someone to travel home with me from uni in holidays, stay overnight and then get the train back to university, and vice-versa for the return to campus.
It was made clear during this assessment that I would not be considered for NHS care funding.  This is known today as NHS continuing healthcare.
As I had had direct payments since the age of 12 then identifying and working with a care provider for term time was then my responsibility
Top Tip:  Your social care remains the responsibility of your home authority whilst you are in education.  Set up your review meetings well in advance for holidays, but have a way of contacting them if you need them during term time.
University student and disability support experiences
Start to build a long-term support relationship for your time at uni at the earliest opportunity.
To make the academic support plan work from the beginning. You will want to get it reviewed regularly, my first review was 6 weeks in and then over the duration of my studies my plan was updated several times to reflect the changing academic requirements of the course
With additional needs then make sure you discuss benefits, finance and welfare support with the university in case you are eligible for support you didn't get or need at home.
Meet early with key departmental staff and your supervisor, hopefully, your plan will include if you need extra time for communication during these meetings
Top Tip:  One thing I did was to create a short video about me and my communication.  This was made available at the start of every year for both staff and students on my modules.  The idea was so they understood a little bit of how to communicate with me.
University accommodation teams are crucial for making things work
Work with staff to identify suitable accommodation options early, so you get choices.
Agree on all necessary adaptations.  For me this included access fobs, grab rails, on-call bell pulls, PA accommodation, disabled parking.  Others might need hearing alarms etc.
Emergency evacuation procedures are essential in case of emergencies.  Work with campus support teams to establish emergency protocols etc
They might also provide specialist equipment, in my case Uni got me an extra-wide bed so I couldn't fall out!
I took my own fridge which went in my bedroom due to my particular needs.  This needed approval, but the fridge in the shared kitchen was not suitable for personal items. Nor did the kitchen fridge have enough space for storing the chilled items I needed each week (without spending time shopping daily).
TOP TIP: If you need to charge a lot of IT equipment make sure you count how many sockets are in the room, where they are and take extension leads.  Also, if you easily get cold (due to sitting in a chair) check if the accommodation can provide additional heaters.
Change of GP (cannot happen until you get to campus so ensure lots of backup meds)
The on-campus GP service was great, and I have remained with them ongoing. They saw me more or less immediately I arrived on campus and sorted lots of things.
First, there were referrals for OT and Physio – and both were then very quick to get on my case and saw me within the first couple of weeks of being on campus.  This was really helpful (see below).
Other referrals happened and I was seen in the first couple of months by Audiology. This was great as I got new digital hearing equipment I'd never had access to before. For instance, I could Bluetooth stuff direct to my hearing aids.
The one referral that was not successful was for counselling.  Both the GP and the OT tried but the local NHS service would not take anyone with an existing issue.  The university Open Door team stepped in to help until I made arrangements for someone with experience of working with people with communication impairments to support me.
Top Tip:  I now have a very comprehensive document I've collated that I have provided my GP.  I realised with Covid how little they knew of my background and why I have certain needs.  This basically covers everything from my diagnoses, having prescription toothpaste, why I use an asthma inhaler for mouth ulcers (which is very effective) to when I might need a particular intervention. It's a bit like the letters my pediatrician did when I was younger but more complete, and I used the NICE guidance for Adults with CP as a prompt.
Referral to occupational therapy (and other therapists) at university
I had a great occupational therapist that made other referrals for me.  She came in and checked equipment and protocols were suitable.  In addition, the OT can provide specialist equipment that cannot be brought from home.
Top Tip:  Prepare a list in advance of all the support and equipment you needed at school and home, some things you will bring with you, others might need providing so be clear about why you need them.
I also recommend lists of lists AND importantly planning for when things go wrong.  I planned for everything running smoothly and the first year was a massive growing experience that included some not to be repeated experiences.  I'd definitely make sure you know about safeguarding and what your rights are living at university.