I believe I've done pretty well so far in fulfilling my potential from a physical well-being perspective. I'm competing internationally at my chosen sport of boccia, I exercise regularly for fun and I'm living life to the full.
Living life with cerebral palsy (CP) is not without its challenges on a day-to-day basis. But that has never stopped me from getting on with life, It's thanks to sport my communication has improved and I have much more confidence speaking out using AAC.
My physical well-being challenges
Pain management
A regular feature in my life is pain. CP muscles are not always generous and can decide to have a mind of their own creating spasms and jerks.  But I manage this by getting as much active exercise as I can.  I take pre-emptive action by avoiding sitting in a static position for long periods and understanding my pain triggers. If something isn't right regarding my physical well-being I need to deal with it immediately. And, that way I avoid a full-blown dystonic event and can bounce back to normal quickly. As a child I was always in pain, often waking at night with excruciating pain in my knees. We only discovered later that this was caused by all the time spent on the floor at school and playing at home.  These days if I get down on my knees I know about it later
Energy for life
The second big influencer on what I do is energy.  I might choose to try and do everything for myself, and take ages doing it…or I can ask for help and preserve my energy for what is important to me.  My energy levels are driven by my CP, nutrition, and knowing my limits. I need to make sure I eat well, keep well topped up with 'good' foods and then know when to stop and rest.  Maintaining my physical well-being by keeping active improves my stamina, and ultimately my energy levels, providing I input lots of the right calories.
Spoon theory
When I'm explaining my life to new team members I use 'spoon theory'.  Imagine you have 5 spoons of energy for each day, for everything from waking to going to bed at night.  If you use too many spoons early in the day you can't replenish them whatever you do.  So the result of running out of energy is you crash and burn before the end of the day. This means for me if I dress it takes an hour of physical activity and hard work and I use a spoon of energy. But if my personal assistant helps me then I reserve my energy for later.  When I feed myself it takes ages, I eat less than I need, I am physically and mentally tired from the concentration and I've used the second spoon of energy.  Again if my personal assistant helps me then I have the energy to enjoy the things that matter in life.  If I force myself to do everything independently then by lunchtime all 5 spoons of energy are gone and my quality of life overall is impaired.
Keeping mobile
Choosing how to mobilize is key to both managing my pain and energy levels.  Inside my home, I choose to use a walking frame or walk with assistance from my PA's.  I can take a few independent steps and pull myself up onto the sofa or bed (but it takes a lot of energy).  In addition, I do various exercise programmes within my home.  Outside the house, if I want to exercise, and I'm in the right place, and have the appropriate time then I have choices. I might use my (RaceRunner) FrameRunner, trike, or go on the swing in the garden.  When I can I go to the gym, but I may need a rest day after a big session. The result is careful planning so as not to overdo things close to a competition or camp.  Maintaining physical well-being is all about balance in my life.
Posture and walking
I've tried a few resources/devices to help with posture and walking. Over time I found wearing a skin suit wasn't for me as I began to regularly overheat and put my body in a dangerous position. I also experimented with DAFOs (short orthotic devices) but managed to twist them out of shape in the first week.  So all my life (except when I rebelled as a teenager and wore Doc Martens) I have worn Piedro boots with special insoles.  Piedro boots give me the stability I need to stand tall and walk with help or use my sturdy walking frame. In addition due to the weight of the boots they help me keep my feet down when I'm sat on a chair or in a wheelchair, which in turn helps my balance and posture.
What I haven't done
Just because I have often been asked, I thought I'd include that in my teens there was discussion about corrective surgery on my legs. Due to my type of CP I was apparently not suitable, and actually, I could walk pretty well already (with my frame indoors and not long distances).  In addition, it seems I wasn't a candidate for botox either as I'm often pretty floppy.
Other regular physical interventions:
Physio
I've had considerable physio, although like most people with CP this was intermittent after primary school. These days I have input from the UK Boccia support team who look after my physical well-being for boccia.
Conductive education
Between the ages of 8 and 14 I really benefitted from regular conductive education, they helped me learn about how to make my body work for me, how to sit well, understand posture, stand and gain my balance, and how to walk purposefully.  Their goal was to make me as independent as possible and this was certainly something we made big strides forward with.  Even today I use techniques and strategies in everyday life I learned in those early years.
Chiropractic
Since the age of 8 I've seen a chiropractor weekly, mainly to correct posture and for pain.  I really value these sessions, as a child when I'd been Mum reports I'd sing the whole way home because I felt so good. Since I started RaceRunning my body has improved sufficiently that I only visit fortnightly.  This comes with a caveat that if my physical well-being deteriorates for any reason, such as illness, I go more often.  In fact, in lockdown being more mobile around my home, and spending less time in my chair, I've needed an appointment even less frequently.
Personal trainer and home workouts
I've learned the real benefits of working out with a personal trainer in the gym and following a home strength and conditioning programme.  At home you can find me doing floor work and regularly using my iGallop (a machine that mimics the movements of a horse).
A love of sport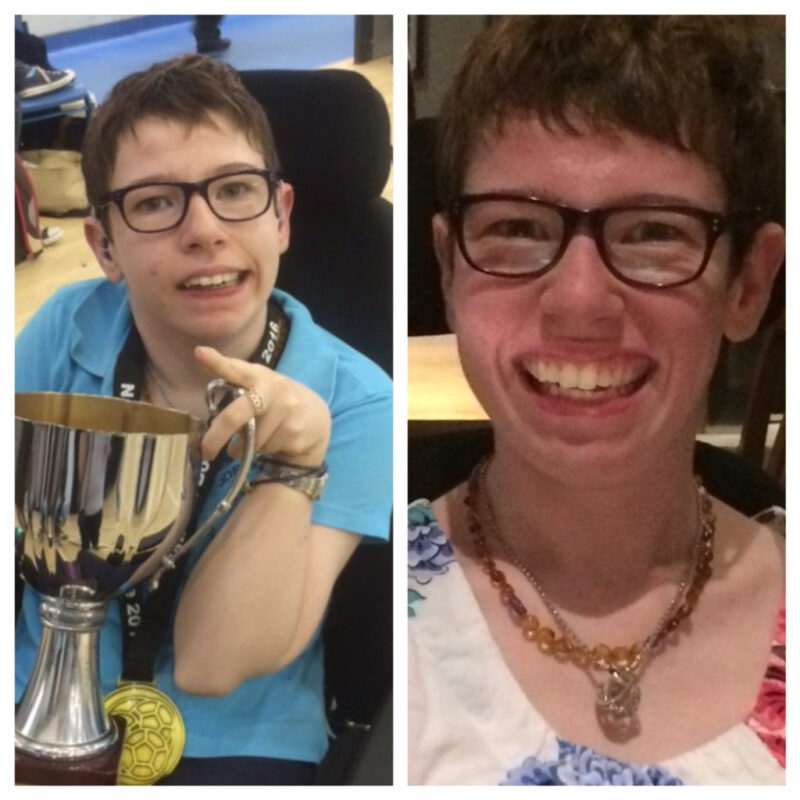 I found boccia at the age of 10, and learned I was a competitive being.  Since then I have tried every activity I could from wheelchair football to sailing, kurling to archery, table tennis to table cricket.
Horse riding was close to my heart but I had to give it up at 18. The brilliant Riding for the Disabled Centre I went to could at that time only offer adults (age 19+) weekday sessions. Unfortunately, this didn't fit with still being in education full time. I'm hoping however when I eventually retire from boccia I can take this up again.
As an adrenaline freak I loved sit-skiing, when I first got to uni I did this weekly on an evening, however, they stopped lessons locally and I wasn't able to get to Manchester easily with uni and boccia. Again, it is something else I intend to return to in the future, I'm definitely an adrenaline freak.
How I keep fit
There are 3 main activities that are key to maintaining my physical well-being: Framerunning (was RaceRunning), boccia and getting in the gym.
Sporting activity brings a range of physical and mental benefits. From my experience, all of which together, or on their own, can facilitate improved use of AAC and communication.  For instance, before doing FrameRunning I was sluggish, slept badly and was often ill.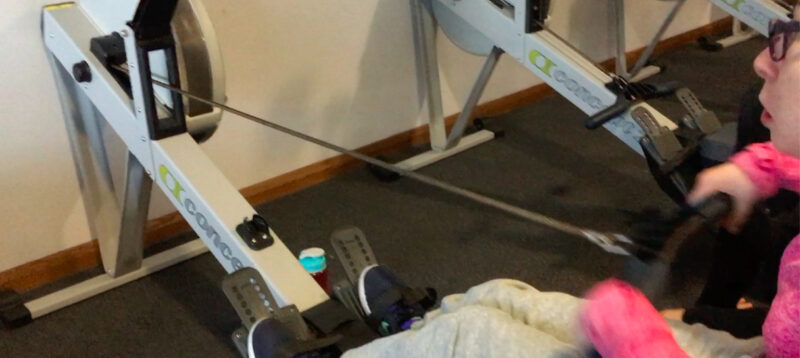 Why be active?
Being active brings a greater sense of well-being improving mental health and self-esteem and reducing social isolation.  There is research that supports the inclusion of those with CP and other neurological conditions in leading active lifestyles (CPISRA 2019).  I believe being active should be part of a prescription for all.  Plus I can attest to reaping the benefits of being physically fit.  It was unexpected to find I had improved mental and emotional well-being as soon as I became regularly active.  This included sleeping better and feeling good about myself.  But more than that having improved focus and concentration, being more outgoing and having greater resilience, see more under mental and emotional well-being.  Read more about this on my RaceRunning page.
AAC and Sport
Being active and using augmentative and alternative communication (AAC) is not a natural fit.  On a RaceRunner, or another piece of equipment, it's pretty hard to have my technology to hand all the time.  However, in boccia I've developed different techniques to communicate in different situations.  I do have some speech, which is difficult for those who don't know me well to understand. Fortunately, this means on the court I can instruct simply and quickly my sports assistant.  For debriefs and other situations we might use magnetic boards, letter cards, keywords, and of course my communication device.  In other situations my PA carries my communication aid, or a letter card so when I am resting it is accessible to me.
Find what suits you best
Not every sport or activity is for everyone, but there is something out there for everybody.  There is a view that people with complex physical disabilities cannot be active, but I've found nearly everyone can play boccia if they want. Go out and experiment, things might need adapting and it might just take time to find the right activity, but it will be worth it.