I love to travel, however, going away is never easy with a disability. We love seeing family and friends too. My grandpa and one uncle live down south, but so do a lot of friends and family who we are really close to. Partly because the first 19 years of my life were growing up in the southwest of London. The most crucial part of this blog is we no longer have to jump through hoops to maintain those special bonds. We've found London has become accessible, finally a rental that meets my needs!
Cost versus making do
Until a few weeks ago, if I wanted to go back to my birthplace, I needed 3 hotel rooms or a house rental where we just had to make do.  I just love to catch up with friends and family and I appreciate the opportunity to give back when I get invited to deliver workshops in schools, but I rarely visited as it has been cost prohibitive.
Most disabled people who try to stay in hotels will know the claims of being accessible are often overegged.  A handrail and a sliding bathroom door are not enough. Nor if you travel like me with personal assistants and family is it cheap when you can't all bunk in together.
A game changer
Ablestay is London's first accessible home, which is a game changer. From the Lento chair to a living kitchen where everyone can relax in good company. You know it's good when you draw up outside and see ramped entrances.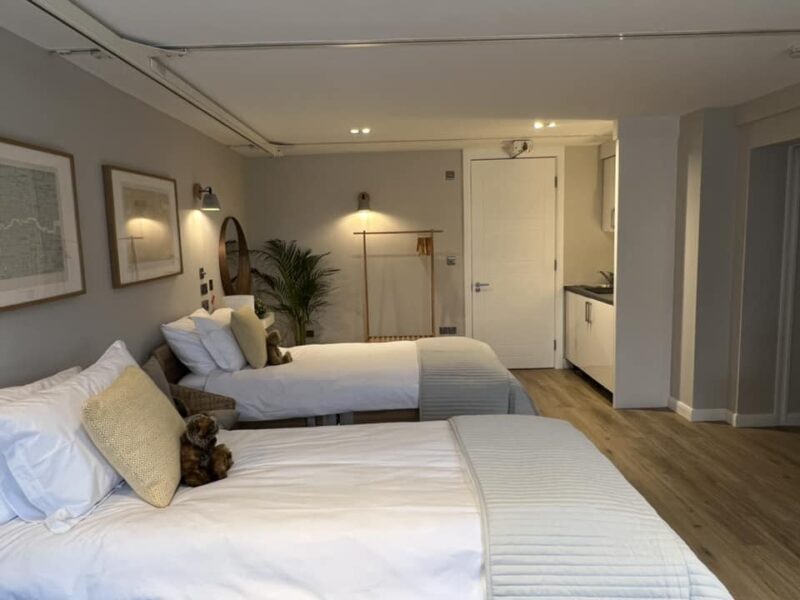 Then inside there are wide doors and corridors.  It's a 3 bedroom bungalow sleeping 6, with two bedrooms for whoever is accompanying me. There is an amazing en-suite off the accessible bedroom, and both are huge.  The bathroom has a self-flushing loo, a walk-in shower and a bath, all with an overhead track for those who require hoisting. I didn't need it but they even have a shower table and mobile shower seats. The bedroom has two profiling beds, and I understand there is a profile bed in one of the guest rooms too.
Little touches make a home
Jo has kitted out the house with lots of great 'little' touches.  Loads of sockets, big soft towels, a blender in the kitchen and games in the lounge.  It is spacious and overall well appointed with a fab kitchen and comfortable lounge. We appreciated the slow cooker so we could entertain loved ones each night but not have to stay in all day to cook.
Central for attractions
Then, there are the masses of local attractions. We only got to make one brief trip into central London. The station is 5 minutes walk and the commute is quick into 'town'. However, we got to go to 2 old haunts, Hampton Court and onto Epsom Downs. I certainly don't miss London traffic, the traffic in York is nothing in comparison, and the week cemented this. I do not wish for a royal death every day, but the trip down only took just over 3 hours. Coming home the journey was excessive, maybe it was because it was Friday. In total it took over 8 hours due to road closures, accidents and traffic volume., and only one brief stop! Despite the traffic around London it's so good we will be going back again.
I'll be back
I cannot recommend Ablestay enough; it is a home from home. London has become accessible. Thank you and kudos, Charles and Jo, for all your tireless work. I look forward to many, many stays in the future, if I can get in! I see on the website you are already fully booked for this year and filling up fast for next year.
I know in their planning Jo and Charles have considered everything they need for their own family. If you are considering your own accessible build you might be interested in reading more here
Ablestay is a registered charity.