Boccia has and continues to be my sporting passion.  I started playing boccia when I was 10.  From the first time I got on court I knew I'd found a sport for me.  Suddenly I could take part, be equal to other athletes and be competitive.  Boccia was something I could do.
Starting out in boccia
Initially, my hands were so small I couldn't even pick up a ball so I started as a ramp player. However, from the earliest stage I was determined to throw.  By my first competition I was classified as a BC2 thrower, something I would 'grow into'.  I never did grow into this classification as I continually dropped the ball due to poor grip. Eventually, I was reclassified as a less able BC1 athlete at the age of 18 and suddenly made it to the England squad.
Changing classification
Unfortunately in January 2016 overnight I had to stop throwing.  This was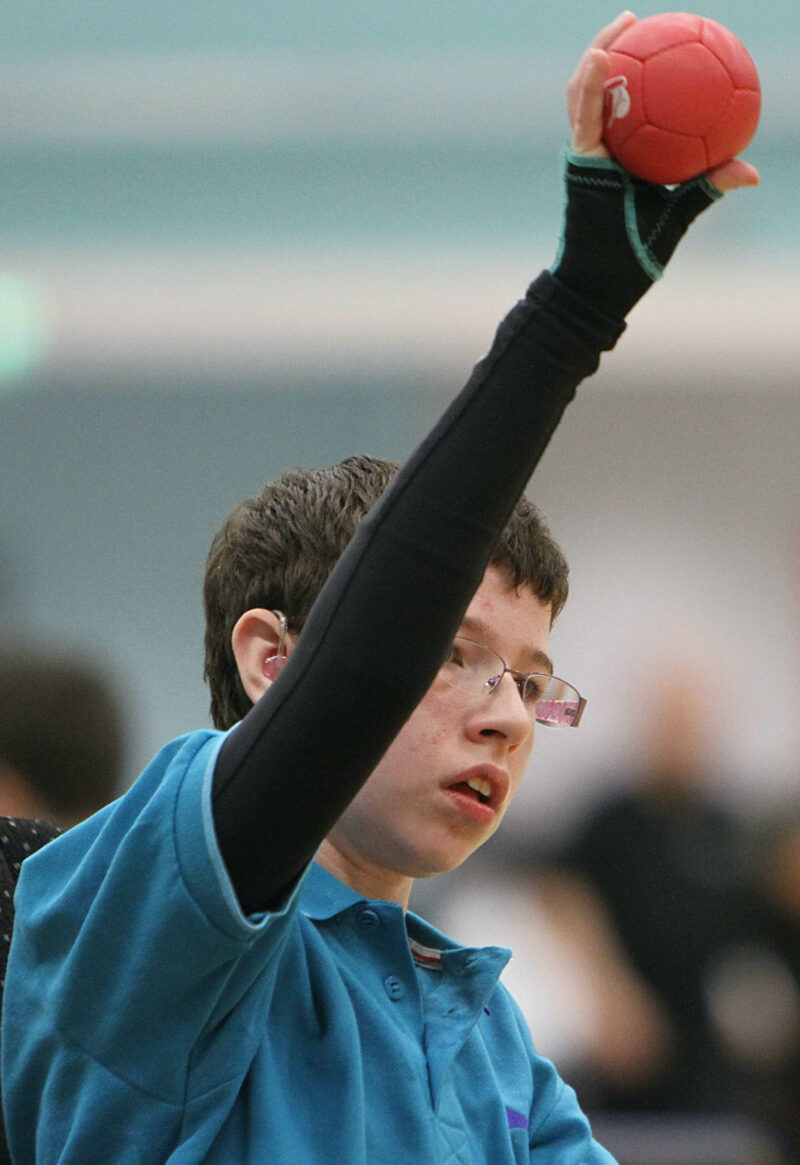 caused by a combination of overheating when wearing skins for support (shorts, top, and gauntlet) and finding after wearing them for years to play I no longer had the unaided ability to grasp or lift a ball.  For me, it meant my overall muscle control and strength had deteriorated because I had relied on the skins to help control my Cerebral Palsy, reduce involuntary movement, and allow me to play and train for longer.
Losing part of my identity
This was a catastrophe, I was no longer part of the England squad, no longer a thrower, and felt I had no part within the boccia world. For someone who had trained several times a week, had a full life balancing university and sport I was at a loss.  How did I fill my time, what did I do? I was no longer seeing friends at competitions and camps, and life was challenging.
Beginning my BC3 journey
In May 2016 I was confirmed as a BC3 ramp player.  From there began what has felt like a long and slow journey back to feeling I am in sight of my dream again. I had to start at the bottom in regional competitions and work my way back up through the ranks.  However, I still hoped to one day represent my nation at the Paralympics and gain a podium place.  In 2020 I am delighted to have been selected as part of the UK World Class Programme with every chance of going to Tokyo.
There are huge differences between being a thrower and a ramper.
Independence versus teamwork
BC1 Thrower
As a BC1 I was allowed an on-court assistant who could pass me the ball. However, as a thrower I hadn't realized until I could no longer take part just what a sense of independence I had felt when training and competing.  How I sat in my chair, held, released, and propelled (threw) the ball was completely in my control.  If I did well, or poorly, or violated it was my own responsibility.
BC3 Ramp athlete
Suddenly as a BC3 I have a sports assistant who under my complete direction moves the ramp to where I want it.  This is a completely new 'ball game", I still have control of my body and where the ball goes, and the shot I make, but, I am having to learn to work in a slick, seamless team with my assistant.
For those less familiar with the sport a BC3 Assistant is sometimes described as a robot.  In the game they sit or stand with their back to the court and they are not allowed to communicate. Sounds simple but that means no verbal or body language during a match.  Now, not only can I violate but so can my Assistant for any number of reasons.
foot on the line.
equipment on the line.
accidentally touching the ball after I release it.
coughing or sneezing in a way that an official thinks is communication.
turning around before the referee says it is ok at the finish of each end
I've learned the hard way that a good assistant can make (or break) your focus and performance.  The value of a great assistant is recognized now by the IPC and BISFED, they are skilled athletes in their own right, and when a BC3 athlete medals so do they.
Court craft – throwing versus ramping
As a BC1 I was in the classification for those throwers with the greatest physical challenge.  I could get a ball anywhere on the court, wearing skins, but my power was limited. Accuracy and pace are essential but the ability to smash a ball off-court is less likely (or for me it was). Instead, I relied on reading the game well and getting my balls closest to the jack.
As a BC3 I am learning a completely different game, the magic of line, pace, and POWER.  This means controlling the head, gaining momentum, and to look for ways to maximize every scoring opportunity.
Boccia and communication
Boccia at an elite level has stretched my communication skills and made me find new ways of communicating using AAC.  It hasn't always been easy with video conferencing and group work especially during Covid using my communication device. But the result has been improving my relationship with my coach and the support team as we have discussed and worked through ways that support me as an AAC user.
It isn't just me – Thank you Christie!
Just as being a thrower and for years working on small gains to get to the top I now find myself in the same position as a ramp player.  The difference now is the small gains come not just from me and managing my body but also from how I use the right equipment. In addition, how well-practiced my assistant and I are together.  Moving into the new classification has been challenging but exciting. I've built a great relationship with Christie, who is my sports assistant, and without her I wouldn't be where I am today.
And, thank you to others too
I'm grateful to Kingsley Napley LLP for their sponsorship and to UK Boccia Federation for the amazing support to get to where I am today.
Boccia England is the National Governing Body in England with grassroots through to elite programmes.
You can also check out my blog posts on communication, boccia and physical well-being
Specific posts that talk about my boccia journey include:
Levelling up the playing field