A strangely different year of highs, lows, close encounters, and building long-distance relationships for everyone. Definitely, reflecting on 2021 has been a year when I guess we've all had times of overload and periods to reflect on the meaning of our own lives.
Highs and lows
My highs were, without doubt, seeing 2 of my long-held dreams collide. I attended my graduation virtually, sitting on my bed in the athlete village, waiting to compete in the Tokyo Paralympics. However, the lows have surrounded my physical health. Since early 2021 I've battled fatigue caused initially by a nasty, long-lasting, saliva gland infection. Because my extreme tiredness has been ongoing I'm still having tests trying to establish why. I'm hopeful we will find out what's to be done to resolve this soon.
Thanks to my team
Throughout the pandemic, I've been lucky enough to be supported by my amazing team of Personal Assistants. My specific needs mean it's a hands-on job with close encounters every time they facilitate me with a task. These girls have gone out of their way for months to keep me well by often restricting their own activities and testing before every shift. From September we tumbled as a team into Covid and other illnesses with several people having to take time off, including one longer-term. As we've also had another Personal Assistant on maternity leave full credit must go to Mum. She has picked up any uncovered shift, often at short notice. And, we mustn't forget Dad who then supports Mum, and in turn me to make that happen. They are the glue that binds my support together, and long term I know this cannot be sustainable with each passing year.
Developing leadership skills
I've spent 2021 trying to focus on boccia and in my personal life building my own leadership skills. Directing a team daily is something I've done for years.  However, it's only when there is an emergency, that it hits home the importance of my controlling any situation. It's relatively easy to do this at home, less so in different environments. The prime example was at the BISFed Europeans in Seville when Christie was taken ill. Fortunately, squad members stepped in to provide support but the added pressure of competing and training people to provide basic support was exhausting. This recent situation has been an awakening of sorts. I've spent the last few weeks putting my house in order and programming basic instructions for everything. This will be useful for new starters, so a worthwhile exercise.
Flying solo
During the year I've been taking on more and more of the formal training of my team. Usually, Mum or Christie is in the background as training is done as part of an induction or a team training day.  When Mum was ill recently all this preparation gave me the confidence to fly solo. Using my AAC training modules on independent living my new starter got an insight into working with me 1-1. Albeit in a slightly different way to normal but still I believe effectively. The result is we are reviewing our 'usual' induction, it is always good to reflect and evaluate.
Essential support
I often liken my role to being the CEO of my own life. There is my team who I train, empower and collaborate with to make my life happen in the way I want. I also have my 'advisory board' comprising my parents, Christie, mentors, a couple of professionals I work with regularly, and some key friends. They are my sounding board…individually and sometimes together I can discuss with them the bigger picture. Each knows me well and understands in-depth some aspects, or all, of my life. They allow me to step back from the day to day and reflect on events as well as my future. Each offers sage advice but let me make my own decisions.
A transition year and balancing life
This has been a year of transition. After years of juggling being a student and playing boccia I'm no longer in education. 2021 was the first year of being a full-time athlete with a focus on Tokyo and beyond. And, that brings me to my future and making sure I continue to find balance and room for the other passions in my life.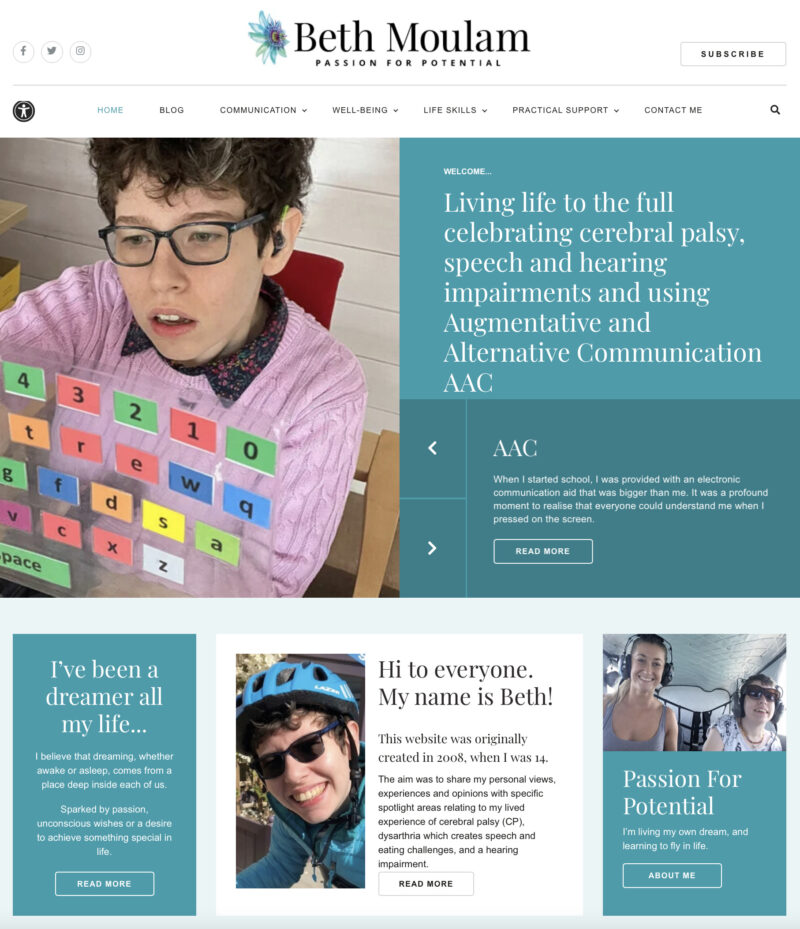 You will know I'm particularly keen to raise awareness of AAC. During the last year I've managed to update my website and blog more. I was a plenary speaker at the Communication Matters virtual conference and delivered a session at the CPISRA physical activity virtual conference. Then I was invited to deliver bespoke AAC workshops both virtually and in person, as well as gaining new mentoring opportunities. As we move into 2022 I'm excited that I already have 'more' of these opportunities lined up in the coming weeks and months.
I'm looking forward to all that 2022 will bring as well as being a year of planning and preparation ready to embrace whatever the longer-term future holds.