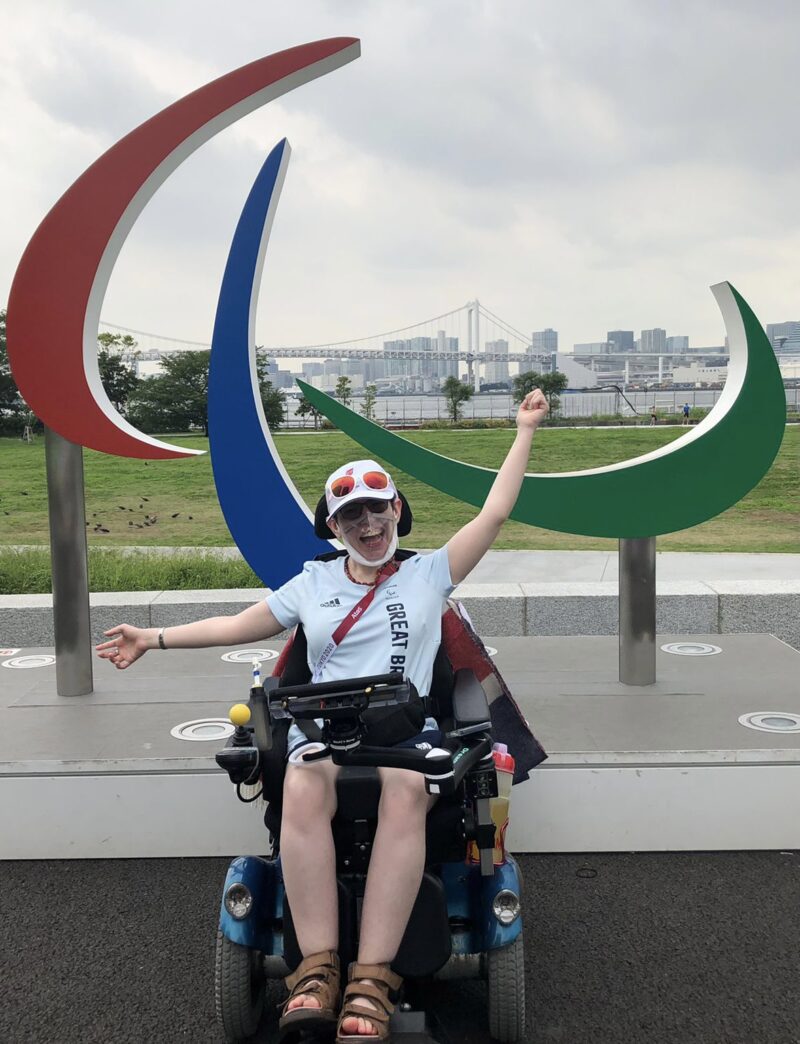 Since returning home from the Paralympics I have been delighted to see the positive press around boccia. Plus, to read with interest the various social media posts from my teammates.  I arrived home nearly 4 weeks ago and have spent much of my time reflecting and recovering.  Tokyo was the pinnacle of months of training, dreaming and planning.  It was most definitely the most amazing opportunity, but one that left me low on energy for a variety of reasons. As a result, it's taken me a while to get my Tokyo news onto paper.
A series of blog posts
There are several things I'm keen to share as part of my Tokyo news, and these will appear over the coming days and weeks.  The topics I hope to cover are, of course, my overall experiences of this unique event.  Alongside that I'm planning to write about fatigue and pain management, communication, the world of anti-doping and more.  I'm also open to questions on topics you might be interested to hear about.
Did we over pack?
Well, it worked!  All that planning, preparation, list writing, folding things neatly and making tight rolls was worth it.  One 'small' blip was that actually we had gone over our baggage limit.  It might have been disastrous. However, thanks to other members of the squad everything I needed got redistributed, and, we arrived with everything intact. A lesson learned, we need to ask for a bag for 'medical' equipment for our next trip!!  The bulky items (besides clear masks) were the serviettes, straws, wipes, disposable gloves and chargers. This didn't include my essential bedside and crucial small lightweight shower seat. My baggage allowance had already included all the playing equipment and so inside these kit boxes I'd put in many of the gluten and dairy free snacks I would need.
Keeping my balls safe
In addition, we needed to take our balls onto the plane as hand luggage rather than risk them going into the hold.  Boccia balls are funny things.  They react to the hot, cold and humidity.  So, if they go in the hold of the plane they can become solid rocks.  If I mistakenly leave them at home on the floor the underfloor heating makes them roll differently. Then there is the impact of the climate, Tokyo was very wet and humid.  Coupled with the floor our balls ran slowly compared to at home, something we adjusted for in training. It's important in preparation to understand the impact of what different floor surfaces might be on ball performance.  I have to say the floor in Ariake was superb.
No spectators allowed
The Ariake Stadium was magnificent, as was the athlete village accessibility. We were transported to the stadium daily by bus, which was essential because of the heat or wet.  I can only imagine what the stadium would have been like with 10,000 spectators. I'm sure I would have been switching off my hearing aids, but without an audience we could hear a pin drop.  You might have heard on TV, especially during the team and pairs, the on-court discussions between athletes.  Even though we weren't the televised court my parents tell me they could hear me giving instructions to Christie across the hall!
Remaining in control
I thought I would be really nervous, but I'd psyched myself up that I was just playing boccia, on a court like any other. I'd be lying to say I had no nerves, but Scott McCowan has always had my back in the pairs so I felt pretty comfortable. I'm pleased to say that the vast majority of my shots were just as I would have wanted. Sadly, we only won one pairs match, but the standard was unbelievable.  We played really great boccia and I think we can be proud of our performances.  We went into, and came out of, the games as 8th in the world and I for one learned such a lot.
Thank you Christie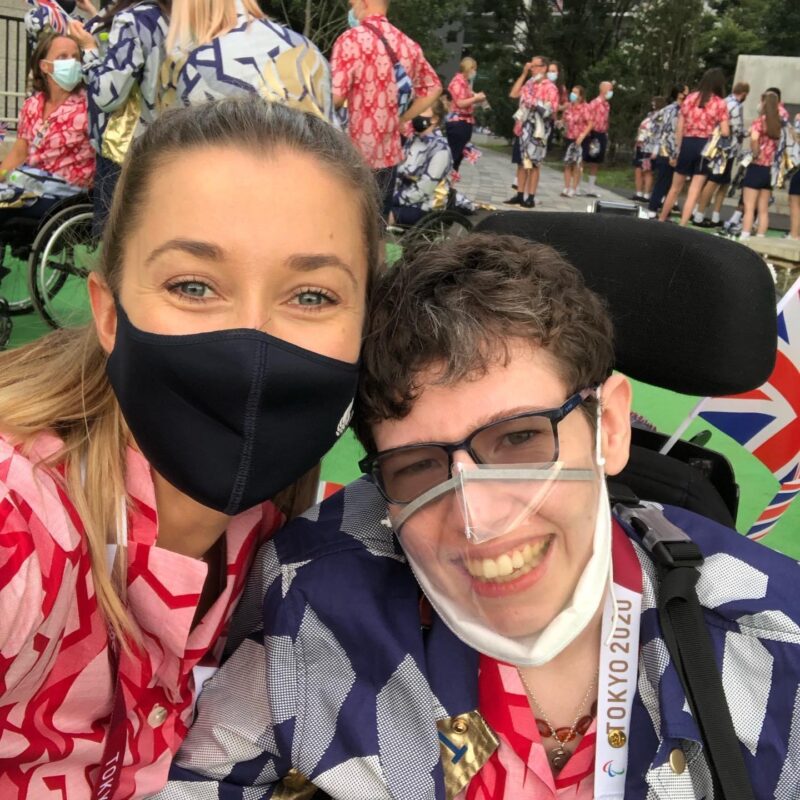 Christie needs a medal just for going to Tokyo with me. Her day started before mine and ended after I was in bed at night.  Throughout she was cheerful and on hand to help with everything I need.  This included getting me up and dressed. Then packing bags, feeding me all my meals, and making sure I had drinks on hand. Helping me with care and just being there for everything I needed. At the end of the day she would help me shower and get into bed, and then go off to sort her own needs.  In between, she rushed off to take or fetch the laundry and make her own calls home.
I could not have made the trip without Christie meeting my care needs.  And, then she was on court as my sports assistant. Overall, she was magnificent and I'm truly grateful to her. The commitment and energy needed goes above and beyond any contract of employment.  The IPC allows one-to-one support for boccia athletes, and this is essential.  We had practiced being just the two of us, within the bigger squad team beforehand. However, it had never been for quite so long away from home. It was for both of us an intense 24/7 experience.
The village, volunteers and covid
The athlete village and the local volunteers we met were amazing.  Always smiling, welcoming and waving.   I can only guess at what the Paralympic experience usually is because we were not able to engage in the same way.  There were many differences due to Covid. The dining room had Perspex screens around each place setting which didn't make mealtimes easy when I needed help to eat.  The food was good, even as a lactose and gluten free person I found plenty of variety. I enjoyed catfish several times as well as trying out other delicacies.
The apartment wasn't really built for wheelchairs, although of course we managed.  There was a communal area in each flat, with a small table and no suitable seating for me. Flat chat usually happened in the corridor. I was only able to get out of my chair and sit on my bed, which wasn't ideal for many reasons. Usually, I am never sat in one place for long.  At home I walk with a frame and use various different supportive chairs throughout the day.
We were only able to take off our masks when we were eating, drinking or sleeping. Although we didn't wear them in the apartment and we did manage a couple of outside photos without them.  On top of this we needed to do a daily spit sample for Covid testing.  Initially I thought this was going to be difficult due to my CP and oral surgery. However, quite quickly we got the hang of it. And, that was another job Christie (or we) had to do, delivering the samples to the drop off point before the cut off time each day.
The opening and closing ceremonies
The boccia squad didn't go to the opening ceremony as it was agreed that we couldn't put ourselves at risk.  However, by the closing ceremony most athletes had left so it was felt to be safer. It was a really great experience, and to see David (Smithy) to carry the GB flag worth the risk of going. The ASOS kit was really different and from a distance I thought this photo made a 'Where's Wally?' shot.  Can you spot me?  Clue: It helps to spot my communication aid!!
Thank you British Airways
Flying out we had scored business class, which I highly recommend.  Coming home there were more of us on the flight so we were in premium economy.  This meant more room than standard class but without the benefit of laying down to sleep.  Still, can't complain as it was just so good to have done the job and be on the way home.
Tokyo news time….
The time since getting home has been a blur.  My type of CP means once I have depleted my energy reserves they take a lot of rebuilding through sleep, rest and nutrition.  For much of the Paralympics it was busy and exciting so I was running on adrenaline.  Fortunately, I had done reflections along the way, and subsequently as I've thought about things to inform my Tokyo news. However, last weekend has been the first time I'd woken up since Tokyo, and was ready to get back to normal daily life, being busy and challenging myself to achieve my goals.
The whole adventure is an experience that has taught me a lot.  About myself, being a Paralympian and being away from home for 3 weeks.  Besides thanking Christie I would like to thank the UK Boccia support team, especially Helen the Performance Director, my coach Glynn and my BC3 teammates.  The list of people to thank is huge, from Active Design for the alterations to my playing chair to the team therapy team that support me at home; Carol Latto, Catherine Bush and Charlotte Foxton. No small mention to my GP surgery who went above and beyond to sort all the medication and supporting letters needed. Then there are my team of amazing PAs; Jo, Rhian and Jess, and not forgetting the many wonderful girls who are still in my life but moved on.  Finally, Mum and Dad and my extended family and friends, especially P&J.
You can read more about boccia here
If you fancy trying out boccia then the first place to contact is Boccia England