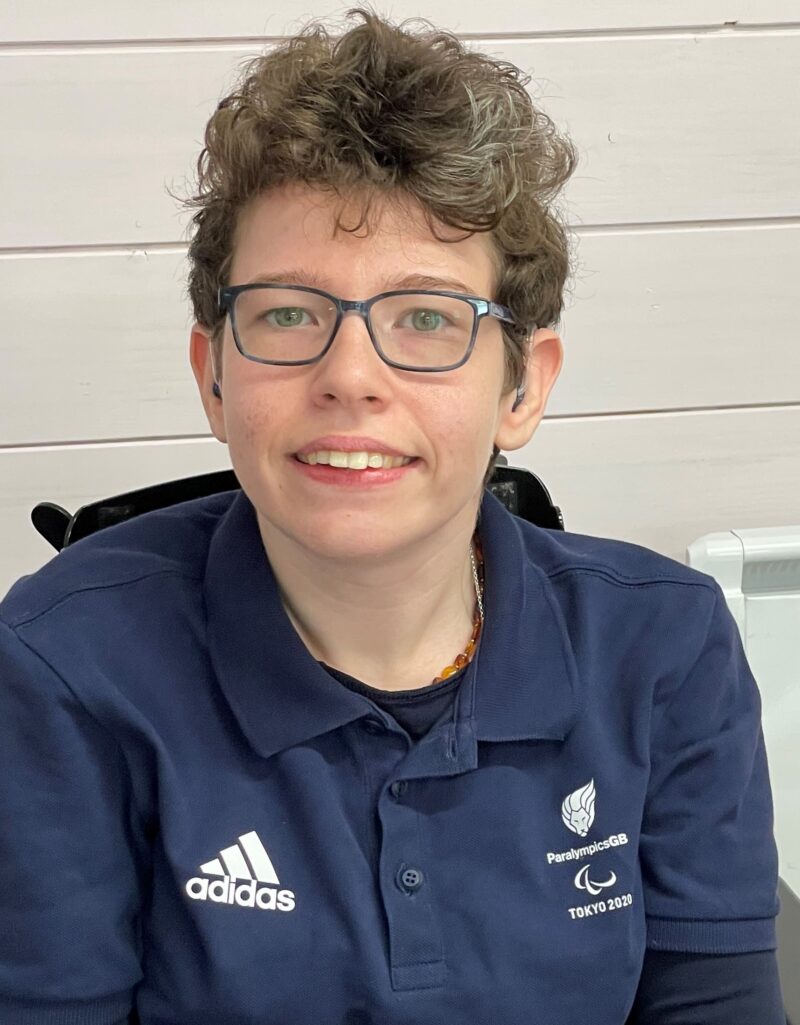 I am absolutely thrilled to have been selected for Tokyo 2020 to represent GB Paralympics at Boccia.  For me, this is living the dream. Several people have asked how I got into sport in general.
Inspired by Paralympics Sydney 2000
In the summer of 2000 as a six-year-old living in Surrey, I watched a 26-year-old from Scotland sprinting to gold in Sydney.  Caroline Innes was interviewed as she came off the track and immediately I was smitten…..we both have cerebral palsy and a speech impairment.
Writing a letter
I asked my mum for pen and paper and wrote to Caroline to tell her I wanted to be just like her when I grew up.  This was the start of a very special friendship.
Mum took the letter, re-wrote what was my spidery illegible writing onto the back so Caroline would be able to read the original words. Then we sent it off without an address to the town where Caroline lived asking the postman to deliver it. I never expected a reply. Less than 2 weeks later a parcel arrived for me. Caroline had sent me her winning race number, photos, and other Sydney 2000 mementos.  To this day Caroline's photo sits where I can see it daily.
Despite the age difference, and living hundreds of miles apart, we have kept in touch, met up over the years, and remain friends. We first met at a SCOPE conference in London when I got to wear Caroline's medals. They were really heavy!  We then met again in 2002 when I was a guest at Caroline's wedding. During London 2012 Caroline was the penultimate Paralympic torchbearer into the stadium so she came to my home.  Distance has not diminished our relationship and social media has played a part in regular contact.
Role Models
"Role models come in all shapes and sizes and Caroline was the first athlete with a similar condition to mine I'd come across. I've always believed if Caroline could succeed so could I."  Initially, I didn't know what sport I might be able to do, but at the age of 10, I found boccia. From day one I discovered I was fiercely competitive and knew that this was something I could excel at.
Caroline was quoted in the Daily Telegraph as saying "I wish you'd seen her wee face when we finally met. She's just so lovely ……. Imagine me being a heroine or someone loving the way I talk? Beth calls me her role model which is funny because I always think of Sally Gunnell or Linford Christie as role models."
Thank you Caroline for the years of inspiration, I'm living the dream.  Your success and determination have always spurred me on to work hard and keep going.
Thank you also to ParalympicsGB and  Boccia UK for believing in me, to Christie for being my indefatigable assistant on and off the court, and, of course, to my friends and family.
Header Photo: Getty Images