I've been thinking about the skills I needed for boccia at Tokyo 2020. Especially, how being a communication aid user helped me to achieve my dream of representing my nation internationally. I was questioning if boccia and AAC could be connected.  I've used augmentative and alternative communication (AAC) since I was 4.  I have a speech impairment, caused by my cerebral palsy.  In turn, my cerebral palsy is the reason I play boccia. Using a communication aid doesn't just happen, and nor do you get to the top in sport, without a lot of work.  However, on reflection, I believe being an AAC user has taught me some valuable skills that have supported my sporting career.  Undoubtedly, my AAC journey has prepared me to tackle humps, hurdles and the exhilaration of being on the UK Boccia World Class Programme. So, for me, boccia and AAC do have some synergies.
Mindset
I am a great advocate of Carol Dweck (2009) and the importance of a growth mindset.  In any situation I've learned the more you put in, the more you get out.  I have always thrived on being praised for the process and not the outcome.  You need to be prepared to work hard, take risks, be open-minded and keep on trying whatever happens.  As a communication aid user, I learned from a very young age that the more I used my device the faster I've got, the more fluent 'my speech' became. This physical and cognitive patterning helps me know where things are stored and repetitive actions become easier.  As an athlete getting my processes right aids my overall performance.  That same physical and cognitive patterning and repetition pays dividends. I know every hour on the court plus time in the gym makes me stronger and more effective.  My reflection is for me mindset is key to boccia and AAC.
Commitment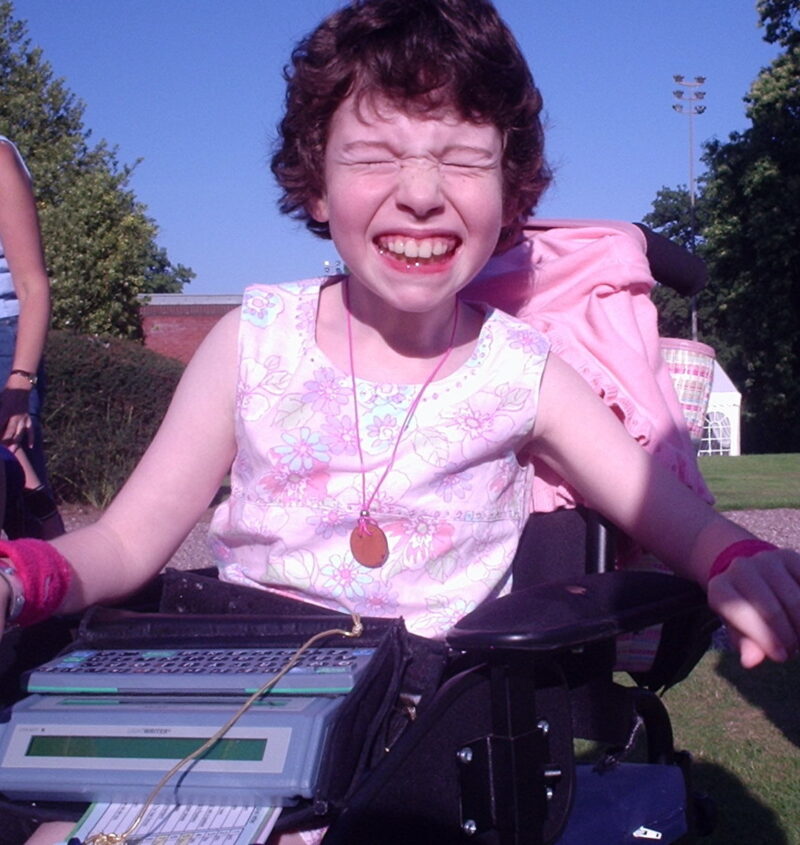 Learning to use AAC well takes years, just as it takes any 'typical' child years to be proficient with language.  Speaking in fully formed sentences doesn't happen without continual practice and support.  As an AAC user I found the commitment to communicate is often the result of sheer determination and hard work rather than naturally evolving.  In the same way getting to the top in sport takes commitment and practice.
Marcus Rashford (2021) said he wanted to kick a ball at every opportunity from the age of 4. Relentless practice has made him a great sportsman and role model for hard work.  There is much that resonates in his book, 'You are a champion', with my own thinking and journey. I've been playing boccia from the age of 10, first as a thrower and since 2017 as a ramp player.  I could have given up many times. First in the many years when I never won a competition and then when I could no longer throw (and that's another story). Instead, I adapted, I evolved and in order to achieve my dreams became a ramp player, trained even harder and continued to dream. I was not giving up on my dream.
Dreaming big
I've always wanted to be an effective communicator, and I've had brilliant role models since I was 8.  Even as a little girl I dreamed of helping those who work with AAC users understand what it felt like to be a user. At the age of 12 I gave my first conference presentation. Unexpectedly I experienced being valued and respected, with a sense of belonging to the AAC community.  That positive experience has been coupled with my passion for boccia.
If you follow me you know I've been dreaming of the Paralympics since I was 6.  And, boccia has been my sport since I was 10 when I learned I was a competitive being.  As a sport boccia is welcoming and a place to grow as an individual. The UK boccia family have been amazing. They have made me feel I belong in boccia.  It is thanks to them that Tokyo 2020 became a reality.  Dreams can be stretches, you might not get there, but aim for the moon and you'll get to the stars.
Resilience
Being a communication aid user I've experienced many setbacks.  Using a speech device makes it difficult to strike up a conversation, especially with strangers.  Things often go wrong with technology, people walk away or talk to your assistant. Then when I was younger I didn't always have the vocabulary I needed to say what I wanted.  Daily I've had to pick myself up, brush myself down and get back on the horse.  Sport is just like that, it is impossible to win everything, there will always be highs and lows.  The important message I took from communicating differently is to keep going back. To never stop learning from each experience, and to return to honing those skills.
Cognitive approach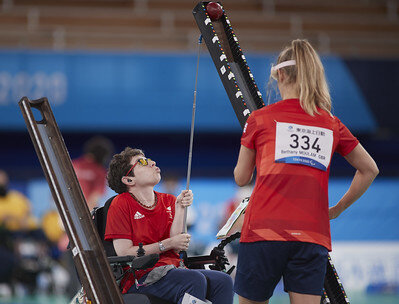 Using a communication aid takes a lot of brainpower to get your message out.  Whether you use direct input, switch, scan or use eye gaze this is different from being a natural speaker.  You are consciously planning and then thinking about a physical movement every time you want to interact. The beauty of language is it is creative, you can say things in different ways to give the same words different meanings.  This is again just like boccia where an athlete combines strategic and tactical skills to be creative in their play. Taking decisions at speed, thinking creatively and then committing to the shot. Boccia UK are currently recruiting for 2024 and liken boccia to physical chess.  The great players are always looking for opportunities to maximise a score or minimise an opponent's opportunity.
On a journey
My communication evolves every day, I've never felt I have reached my communication destination.  This means I am used to moving forward and seeing change.  As a result, I feel my communication journey will be my life's work. I'm on a journey too with my sport, first Tokyo 2020 then beyond. Boccia has been my passion for 17 years, and who knows what my destination will be. I'm relishing moving forward, enjoying evolving my game, and seeing change as I make progress. Although unlike my communication I will know when I've reached my final destination.  Just like other sports being an elite athlete is a phase or stage of life. But what I am sure about is that boccia will be part of my life in some way.
Multi-dimensional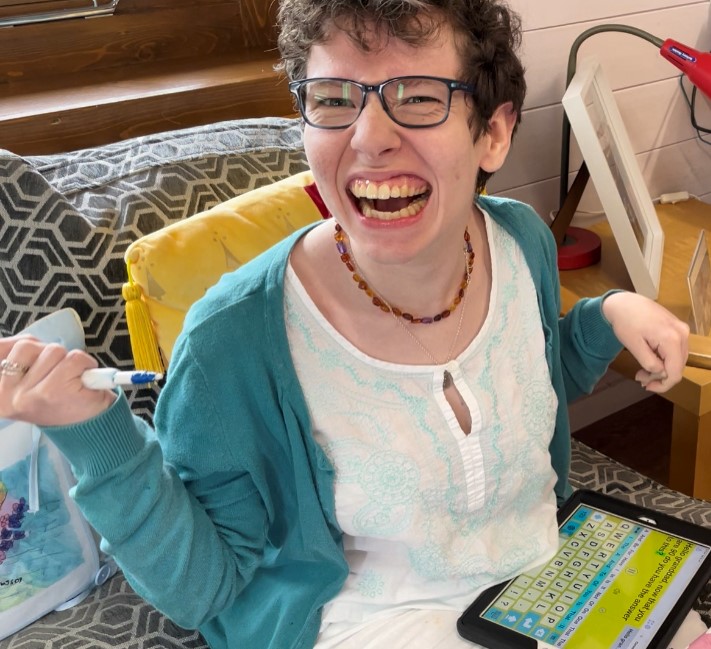 My communication, like everyone else's, is multi-modal.  I choose when to use my natural voice (which is difficult to understand) and my communication aid. But I also rely on body language, facial expression, eye pointing and sign. In addition, to communicate well I draw on the props or tools around me.  Playing boccia is much the same, it's about being willing to give things a go and thinking outside the box. It means using the tools and equipment you have creatively, to be the best you can be. With a communication impairment you work the resources around you.  In boccia that is no different whether you are playing individually or part of a pair.  It means working with the people and equipment available to you, and what you a presented with in the field of play.
Teamwork
Using a communication aid means having a team behind you, and working with them.  It starts with the assessment team and those who provide training. Then the teacher in school, and family at home, people who hopefully model good communication skills. In school a whole host of people made sure my devices had suitable vocabulary. But over life it's important to have someone to maintain devices and get them serviced, even if as an adult this is under my direction.  Then there is making sure the device is always available.  By this I mean moving it around the house if I walk from A to B with my frame, placing it on the table, or when I go outside putting it on the mount on my power chair.  These transitions throughout the day need to be seamless.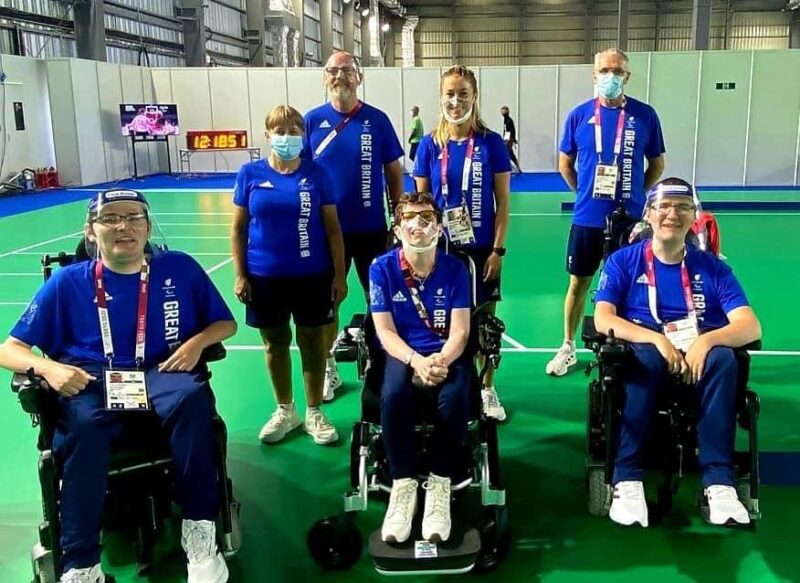 Boccia is no different. It is not just about being the best in competition as an individual. It is about being a team player on and off-court, being coachable and adaptable. Then, working with the physios, the strength and conditioning specialist, the psychologist, lifestyle guru, and the nuts and bolts team who make everything happen. It is about building relationships with the coach and your teammates.  When you are at camps or competitions you have to get on with everyone.  I'll be forever grateful to the GB squad for so generously sharing their experiences and knowledge.  More importantly for welcoming me into their tight-knit and supportive group and believing in me.
Essential assistance
I live independently relying on my team of great personal assistants to facilitate my communication environment. I have faith and trust in my assistants.  They charge my communication aid, clean the screens and ensure wherever I go my communication aid goes too.  They model good communication skills to others at every opportunity and make sure I get to contribute in groups.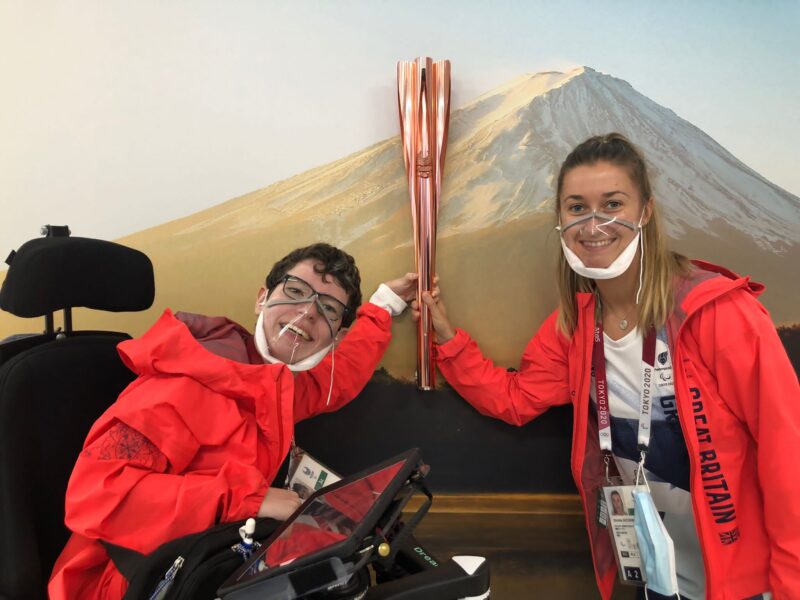 So, do boccia and AAC go hand in hand? As a BC3 athlete the most important person in my sporting life is Christie, my ramp assistant. During a major competition she is also my personal assistant so works 24/7. I might be the person who directs play, decides on the shots and who is selected for competition. However, Christie is the cool, calm and efficient assistant who facilitates my performance. We are the ultimate team, in every match she ensures we are there and ready to compete.  Christie carries the equipment to court, moves the ramp precisely under direction, and helps me maintain focus. The sports assistant role is so important that when a BC3 athlete medals they medal too.
The prize
In communication terms, the prize for working hard is being able to effectively communicate in any given situation.  Something I relish being able to do every day, my way.  In boccia the ultimate prize is to represent Great Britain at Tokyo 2020, and hopefully beyond.  So, this brings me full circle back to the synergies between communication and sporting performance.  Having a dream, being motivated, resilient, working hard and building crucial team relationships are transferable skills.  I am now a great believer in life that whatever we learn, the skills we gain along our personal journey can be applied to different aspects of our lives. Without doubt, I feel being a user of AAC has supported the essential skills for my elite sporting journey.  I believe boccia and AAC go hand in hand for me.
If you want to try boccia then contact the National Governing Body in your country.  Here in England this is Boccia England
You can read more about my boccia and AAC journey's on my website.