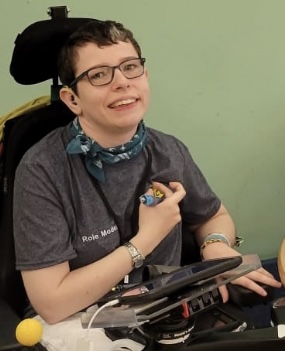 This last weekend I was privileged to be invited back to a 1 Voice family weekend. I started going to this annual event when I was 7 years old. It is one of the safe places that shaped me as a communication aid user through meeting AAC role models.  It was such an honour to 'give back' by spending time with children and young people who are on their own augmentative and alternative communication (AAC) journey. Travelling home I realised I'd written something about role models when I was in my teens, and here it is….the thoughts of a 16-year-old.
What is a role model?
Lots of people talk about it.  Can anyone be a role model?  This is my personal perspective on what having good (and bad) role models means to me. I want to share first what I believe a role model is and how I believe role models affect every single person everywhere.
You might think I am too young to know, understand or value what having role models really means, BUT we should all have heroes, people that inspire us to try harder, dream bigger and achieve more.  This is my personal perspective. There is one thing I know, my role models are not always the same as those of other people. Just because someone is good at what they do does not make them a role model.
Choosing your own role models
Personality, attitude and behaviour are important BUT more important is knowing I have a choice to be inspired or not.  In my opinion, no one can just choose to be a role model, it's not a right. Like respect, the title 'role model' is earned through action. Role models don't shout they just do what they do every day and quietly shape lives, often not even aware they are doing it.
Role models are reference groups
When I looked up the word 'role models' I found they are reference groups, people we identify with, compare ourselves to or aspire to be like. My reference group includes some teenagers, women, athletes, dancers, musicians, leaders and disabled people who work, live independently, have families, drive cars ……the list goes on.
We come into contact with role models as soon as we are born. Our parents, carers and siblings show us how to behave in our everyday lives. As we grow we find role models in playgroups, nurseries, at school then college. We make friends, we meet people at clubs, in the shops and on holiday, and when we watch TV, films, and sport.  If we are lucky we read or have read to us, books full of potential role models. They shape our lives by showing us what is right and wrong, and what we can and can't do. They make us want to do better and sometimes show us what we don't want to be or how not to do things.
A good role model
I think a good role model is someone who inspires and motivates us to be the best we can be. This can be being cheerful or positive, or to see our future opportunities. It can be having a friend who gets a merit for good behaviour at school. Or one who gets a job, learns to drive or wins a Paralympic medal. It can be someone well known like a pop star, a sports personality or an artist.
Identifying with role models
If a child is born with a disability they are often unique in their family. I speak from experience.  There is often no one else like me/us/them at home, at school or in their community. They may never be able to do things the same way as everyone else. So is having an able-bodied role model enough? No. Everyone deserves to be inspired by people they can identify with. 
Future possibilities
I believe it's important not just to inspire the person with a disability but their families, and other people who work with them. They all need to be able to see just what might be possible.  Often people can write me off because they assume I can't. Yet with the right help and support I know I can do whatever I want.
I have had lots of 'normal' role models like any other child of my age. I have been to mainstream school, brownies, kid's parties, the cinema, and eating out but usually with people who are able-bodied. People that I love and respect, people I love and know care for me. But the people who always inspire me are other disabled people, especially my chosen AAC role models. They are the ones who, besides showing me it's OK to be me. They motivate me to work hard at school and to achieve to the best of my ability.
The need for different role models
In my view, one disabled role model is not enough. Just like everyone else we need to have many role models who can offer different things.  People who will help us to dream big whilst we are little. People who can work with our parents and extended families. Those who can influence teachers and health care teams, who can support us and let us have a vision for our future.
My role models do many things.  They run their own businesses, have paid jobs, and have been to university. Many live independently, drive, have their own children, play competitive sports, dance and write poetry amongst many other things. Sounds like everyone else, good!   They have made me confident to go to town on the bus on my own. To shop independently, to dream about my future and plan for success.  If my role models can do it so can I. I couldn't have done all of this without my parents, but they believe in me.  I have made some wonderful and hopefully lifelong friendships with people I admire and respect.
Finding your own role models
My AAC role models have not come through professional recommendations, they've come from going to camps and conferences. I was in mainstream school until I was 13, my teachers never met another person like me.  Professionals made assumptions about what I would and wouldn't do in the future. I know I continue to surprise many of them with what I achieve, would they have been so surprised if they met my role models?
Being a role model is a vital job
I am a child of the AAC revolution, I have a voice, I have opinions and people listen when I speak.  I would like the opportunity to challenge all professionals to ensure they encourage and support the early introduction of positive role models to families, teachers and therapists. But a warning, don't expect disabled people to do it just because the opportunity is there, find a way for them to be paid, I think being a role model is a vital job.
Note: The only changes I've made to the original piece written in 2010 is to add headings. Plus to add a bit more punctuation for web readability.
You can read more about my thoughts on AAC and communication here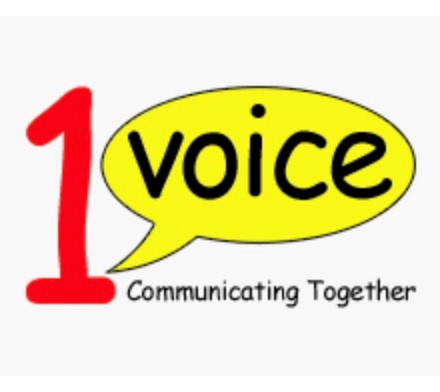 1 Voice is a national charity established in 2000.  Their aim is to support children and young people who use AAC, along with their families, including siblings, grandparents and their extended families. Some families attend with their child's personal assistants, professionals and teaching assistants.  A key part of each event is to invite AAC role models to work with attendees.  Besides the annual family weekend the charity holds other regional and national events.