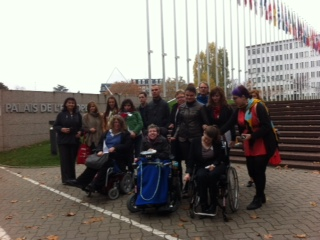 STRASBOURG
I had an amazing week in Strasbourg at the European Youth Centre at the end of October 2012. I was lucky enough to be selected to join the European Network for Independent Living Workshop that ran for 7 days. I was inspired by the wonderful participants from across Europe and motivational leaders. We had presentations, workshops, small group work about lobbying, campaigning, human rights and got the opportunity to present at the Council of Europe to MEPs about what Independent Living meant to us. This is part of the group preparing to enter the Palais de l'Europe. Thank you ENIL!
What I learned was that whilst here in the UK we certainly don't always get things right we are ahead of the countries where many of the participants live. Each and every person with a disability should have the right to make their own choices and live independently.
THE EUROPEAN YOUTH CENTRE and SETTING OBJECTIVES 
The European Youth Centre hosted the ENIL Youth workshop from 21st to 28th October, 2012.
Our objectives for the week were
 To increase knowledge of independent living in Europe for disabled young people, the realities of this and the concept of personal assistance.
To facilitate self-empowerment of participants through peer to peer learning, recognition of skills and self-reflection
To develop the knowledge of young people with disabilities of Human Rights and their implications at a grassroots level.
To construct a sustainable youth network promoting independent living, defining its aims, structures and plan of action, and
To capacity build with young people with disabilities leading independent living campaigns and mobilising others in their communities.
HOW WE DID THIS – COLLABORATIVE WORKING
To achieve this across the 7 full days there were group sessions, small team discussions, presentations, plenaries and reflection groups on the medical and social model of disability, independent living, personal assistance, human rights, the UN convention on the rights of persons with disabilities, empowerment, lobbying and campaigning. We went to the Palais de l'Europe and presented to MEPs and the advisor to the Commissioner our recommendations (below) to support young disabled people living independently across Europe.  Finally we created a vision and structure for a European Network for Independent Living Youth Group which included our personal action plans.
THE ENIL YOUTH GROUP RECOMMENDATIONS TO GOVERNMENTS MADE AT THE PALAIS DE L'EUROPE
Our 4 recommendations to Governments were for them to
1.   Work towards changing perceptions and attitudes towards young people with disabilities through positive role models of young disabled people who live independently and through educational workshops by
Funding local disability groups to run independent living campaigns
including positive representations of all disabled people through learning and training environments
promoting a school curriculum that includes issues affecting all minority groups (not just disabled people
2. Ensure continuous access to education from early years through to higher education by
 ensuring all the necessary resources are available, as needed, including physical access, human support such as personal assistants, sign language interpreters, palantypists, technical aids and an accessible curriculum that reflects different learning styles
training for all teachers to meet the needs of disabled students access
raising awareness of the support available to all disabled students in each educational establishment including technical support
governments allocating specific education budgets for students with disabilities
all mainstream schools to become fully inclusive for all disabled students with special schools closing (being a special school student I cannot agree with this but I understand why in some countries it needs to happen!)
3. Improve transition to employment for all disabled young people when they finish education by
Governments ensuring EU policies promoting employment for all youth include young men and women with disabilities
All schools, colleges, universities, NGOs, careers centres and other agencies have the know how and resources to ensure all youth, including those with disabilities, have the ability to meet job requirements
Support NGOs to implement peer counselling and mentorship schemes in the job seeking process for all youth
4. Over 200,000 disabled people in Europe live in closed institutions and 1 in 2 disabled people in Europe have no access to any leisure or vital public facilities. This should be addressed by
not spending any more money on institutions
conditions should be attached to any European funds (Council of Europe and European Union) for disabled people and institutions, specifically no new institutions from any grant given
member states can only spend the disability element of monies given on improving accessibility for disabled residents and visitors, training for those who work with disabled people, enhancing employability and raising the profile and awareness of those with disabilities.